The Green Organisation and its members have been helping the environment ever since 1994.
You can join us and get the credit you deserve for your environmental efforts.
Most companies these days reduce, recycle, re-use and undertake other environmental initiatives because they make sound business sense.
These actions form the basis of our Code of Green Conduct(seen here)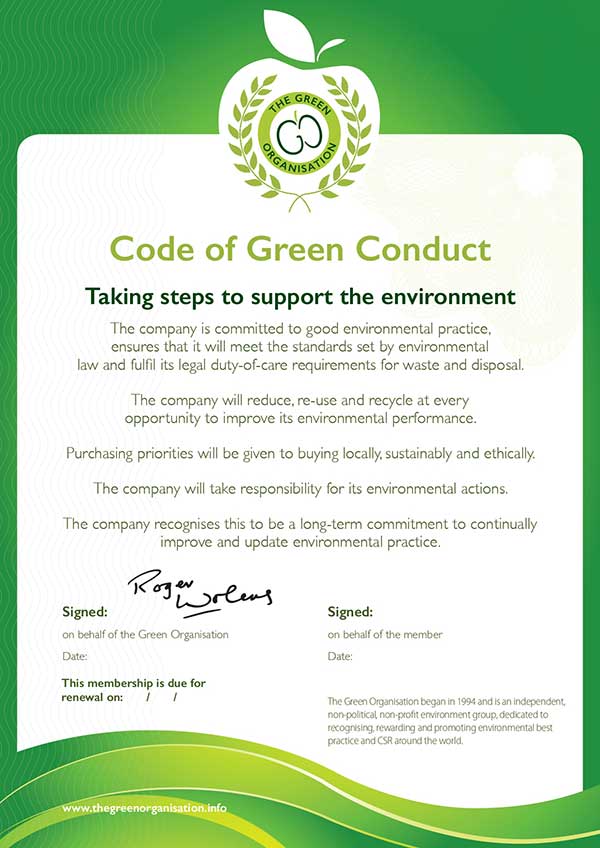 If you are happy to sign and display the certificate, you will help the environment, you will save money, and you will be entitled to become an accredited member of The Green Organisation.
All you have to do then is decide which range of benefits is most applicable to your needs, and join as either a Gold, Silver or Bronze member.
If you wish to demonstrate your long-term commitment to the environment, you can be a Platinum Member.
To do this, you sign up for a five-year membership (at Gold, Silver or Bronze level).
We recognise this commitment in two ways.
1: We give you five years' membership for the price of only four.
2: We will invite you to the Houses of Parliament to be presented with your membership insignia in a prestigious ceremony that will give you excellent publicity opportunities.
JOIN TODAY TO REAP MAXIMUM BENEFIT FROM YOUR ENVIRONMENTAL ENDEAVOURS.