International Green Apple Environment Awards 2021.
NURTURE LANDSCAPES VOTED
GREEN CHAMPION OF CHAMPIONS 2021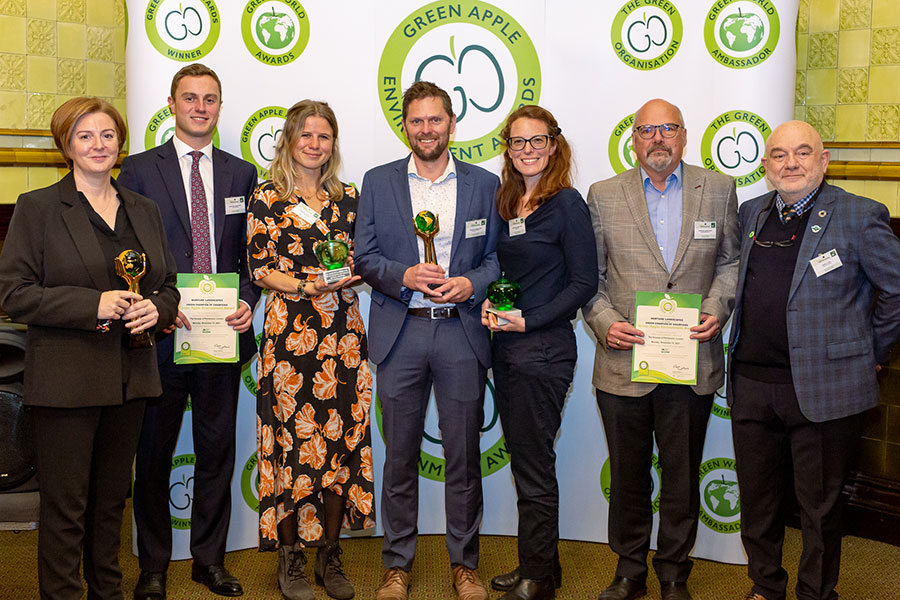 NURTURE LANDSCAPES have won the coveted Green Champion of Champions title in the International Green Apple Environment Awards 2021.
The awards ceremony was switched at very short notice from the Houses of Parliament after the Palace of Westminster went into events lockdown following a Covid outbreak there.
The event was quickly re-organised in the impressive surroundings of The Royal Horseguards Hotel, Whitehall, just a few hundred yards along the Thames.
GREEN CHAMPION OF CHAMPIONS NURTURE LANDSCAPES
(who will go forward to represent their countries in the Green World Awards next year)
BRAZIL
CASACERTA
ARCHITECTURE DESIGN & BUILDING
CHILE
CRYSTAL LAGOONS
INDIA
BHARAT ALUMINIUM COMPANY LIMITED
INFOSYS
LARSEN & TOUBRO
N. IRELAND
NI WATER
TRT INNOVATION
QATAR
ASHGHAL
REPUBLIC OF KOREA
ASEZ WAO
SRI LANKA
ZURELI INTERNATIONAL
TURKEY
ASELSAN ELEKTRONIC SANAYI VE TICARET A.S.
IC CESME MARINA
UK
ASHDOWN PHILLIPS & PARTNERS
BALFOUR BEATTY
BIRMINGHAM AIRPORT
BIZERBA (UK)
BMMJV & ENVIRONMENT AGENCY
BRIAR CONSULTING ENGINEERS
CAWARDEN
CAWLEYS
CBRE-TOWER PLACE
CHAMBERLAINE CLEANING SERVICES
COLAS
ECOSERV GROUP
GPS MARINE CONTRACTORS
GREEN MOTION
GRUNDFOS
ISG
JOSEPH GALLAGHER GROUP
LEGAL AND GENERAL INVESTMENT MANAGEMENT & JLL
NATIONAL OILWELL VARCO
PREMIER CABS (BLACKPOOL)
PREZZO
SRL PUBLISHING
THE FLOORBRITE GROUP
THE MALL AT CRIBBS CAUSWAY
THE RIDINGS CENTRE
TOUCHWOOD-SOLIHULL
VOLKERFITZPATRICK
WATER PLUS
WHITE ROSE CENTRE
WATES FM
WALES
CWMBRAN CENTRE CBRE
PARC TROSTRE RETAIL PARK
THE MORGAN QUARTER
GREEN APPLE AWARDS 2021 GREEN CHAMPIONS AND GOLD WINNERS
AUTOMOTIVE CATEGORY
GTS ELECTRONICS
GREEN MOTION
BUILDING & CONSTRUCTION SECTOR
BACHY SOLETANCHE – Environmental Improvement
BALFOUR BEATTY (Inverary-Crossaig overhead line) – Carbon Reduction
CAWARDEN – Habitat Creation
GRAHAM – Pollution Control
JBA BENTLEY ( Winteringham Ings and Bentley Ings joint winners) – Climate Change Benefits
JOSEPH GALLAGHER GROUP – Sustainable Development: Carbon Reduction
KIER HIGHWAYS – Innovation
VERMONT CONSTRUCTION – Sustainable Development
VOLKERFIZPATRICK – Sustainable Development: Community Benefit
DISTRIBUTION CATEGORY
AKW GLOBAL WAREHOUSING
EDUCATION & TRAINING CATEGORY
LONDON SCHOOL OF ECONOMICS
ELECTRONICS/ELECTRICS
NMCN
ENGINEERING/MANUFACTURE
PERKINS ENGINES
FARMING/AGRICULTURE
ENVIRONMENTAL CROP MANAGEMENT
HEALTHCARE/NHS
GREAT WESTERN HOSPITALS NHSFOUNDATION TRUST
BYWATERS (FRANCIS CRICK INSTITUTE)
HOSPITALITY
HOLROYD HOWE
INDIVIDUAL
GABRIELLE BACK
INNOVATION
SUSTAINABLY RUN
PARTNERSHIPS
BNP PARIBAS REAL ESTATE/ONE CREECHURCH PLACE
PRINT & PUBLISHING
SRL PUBLISHING
PROPERTY MANAGEMENT SECTOR
GREEN CHAMPION – WHITE ROSE CENTRE, LEEDS
1 CORNWALL STREET, BIRMINGHAM – Energy Management: Offices
61 ALDWYCH, LONDON – Wastes Management: Offices
AIRPORT INDUSTRIAL PROPERTYUNIT TRUST – Carbon Reduction
BOTANICA DITTON PARK, DATCHET – Conservation
CENTRAL SQUARE, LEEDS – Innovation
CHAMBERLAINE CLEANING SERVICES – Pollution Control
CULVER SQUARE, COLCHESTER – Energy Management: Shopping Centres
EXCHANGE QUAY, MANCHESTER – Pollution Control
FELTHAMBROOK INDUSTRIAL ESTATE – Habitat & Diversity: Industrial Estates
GREEN CARNABY/CBRE – Sustainability
GREEN CARNABY – Sustainable Development
HANDFORTH DEAN, WILMSLOW – Habitat & Diversity: Retail
MILTON PARK, ABINGDON – Habitat & Diversity: Offices
SPECTRUM RECYCLING – Wastes Management: Mixed Use
THE GLADES, BROMLEY – Habitat & Diversity: Shopping Centres
THE WHITE BUILDING, READING – Sustainable Development: Offices
TOWERS BUSINESS PARK, MANCHESTER – Conservation: Offices
UNIVERSITY OF CAMBRIDGE – Energy Management
WELLINGTON PLACE, LEEDS – Energy Management: Mixed Use
WESTON INDUSTRIAL CENTRE – Conservation: Industrial Estates
WHITE ROSE, LEEDS – Wastes Management: Shopping Centres
WILMSLOW CAMPUS – Habitat & Diversity
RETAIL CATEGORY
COPDOCK MILL, IPSWICH – Energy Management
MARKET PLACE SHOPPING CENTRE, BURGESS HILL – Habitat & Diversity
MIDDLETON SHOPPING CENTRE, MANCHESTER – Initiatives
THE RIDINGS, WAKEFIELD – Wastes Management
SERVICES
GREEN CHAMPION – NURTURE LANDSCAPES HOLDINGS
SUSTAINABLY RUN MEETINGS
SUSTAINABLE DEVELOPMENT
THE RECYCLED CANDLE COMPANY
TRANSPORT/RAIL & SEA
GPS MARINE CONTRACTORS
TRANSPORT/ROADS
MILESTONE INFRASTRUCTURE
TRAVEL/LEISURE
BIRMINGHAM AIRPORT
UTILITIES
FREEDOM (WASTES MANAGEMENT)
CMDP JV (CARBON REDUCTION)
BALFOUR BEATTY (INNOVATION)
WASTES MANAGEMENT
BYWATERS/BRYAN CAVE LEIGHTON PAISNER
IRELAND
GREEN CHAMPION – NORTHERN IRELAND WATER (Bog Restoration)
NORTHERN IRELAND WATER – INNOVATION
JET PR
SCOTLAND
GREEN CHAMPION – NOVUS 48
DUNNET BAY DISTILLERS – INNOVATION
HOUSE CLEARANCE SCOTLAND – CARBON REDUCTION
MACKENZIE CONSTRUCTION – WATER MANAGEMET
WALES
GREEN CHAMPION – MERMAID QUAY, CARDIFF
THE TAWE BUSINESS VILLAGE, SWANSEA – CONSERVATION
THE MORGAN QUARTER, CARDIFF – ENERGY EFFICIENCY
…………………………………….
CHINA
JINKO SOLAR HOLDING CO.
EUROPE
GREEN CHAMPION – IC SESME MARINA, TURKEY
WE DESIGN GREEN, FRANCE
INDIA
GREEN CHAMPION – INFOSYS
CHITTOGRAPH ART SOCIETY
BLUECAT PAPER
KOREA
GREEN CHAMPION – SEOCHO-GU DISTRICT OFFICE
JOONGANGILBO MEDIA GROUP
MIDDLE EAST
GREEN CHAMPION – SAUDI ARAMCO (RUBBER ASPHALT)
GREEN CHAMPION – DUBAI ELECTRICITY & WATERAUTHORITY (GTIC WORLD FIRST)
DEWA – SUSTAINABLE INITIATIVE
MONGOLIA
AR DAVHAR PENINSULA ECO TOURIST CAMP
SRI LANKA
THE EXTERMINATORS
THE AMERICAS
GREEN CHAMPION – PUBLIC ACCESS LAGOONS, CHILE
GAMBIT COMMUNICATIONS, USA